For love of their country
By Wang Ru (China Daily)
Updated: 2008-12-11 08:00
Ma Yunchang looked around the packed theater. Hundreds of his peers were chanting passionately, tears welling up in their eyes. At last, 40 years later, they could celebrate the days of the zhiqing.
Now in their 50s, these men and women have long lived with thoughts of what might have been had they not been told to forsake their city homes and start new lives in the countryside for the sake of China.

What dreadful conditions might they have avoided? What schooling might they have had instead? What priceless opportunities?
As the 700-strong crowd sang the old, familiar songs in tears, Ma gave their history a new perspective.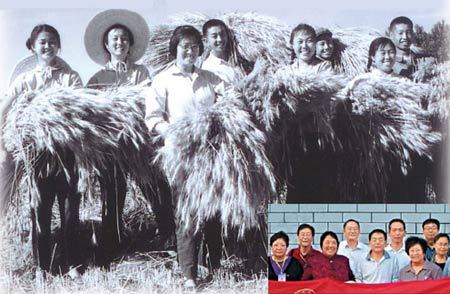 A group of zhiqing pose with their wheat harvest in the late 1960s while working in the countryside. Inset: Members with China zhiqing website celebrate its founding. [Photo courtesy of Liu Xin]
"We grew up with the nation," he says. "People may say that we missed the best times of our lives but we were the major force behind the opening-up and reforms of the past 30 years.
"Many zhiqing led a miserable life and some were persecuted in the chaos but it was a special time when our country was in need - I don't regret carrying the load for my country."
So it was that Ma resolved to organize a reunion for those once known as China's "lost generation", culminating in last Friday night's gala at the PLA Opera Theater in Beijing.
He already knew of many old friends who wanted to attend but it was just two weeks earlier that his website www.chinazhiqing.org, had invited registrations.
The responsive was overwhelming - he was flooded with far too many applications and had to whittle down the list to the room's capacity of 700.
"This year is the 40th anniversary of the start of the zhiqing movement," he says. "I am not sure if we can still meet again 10 years from now for the 50th anniversary, so I founded the site to connect zhiqing and have a memory to share for the rest of our lives."
It was back in April 1969 that 18-year-old Ma left Beijing for Inner Mongolia to join a construction corp in the desert.
"There was nothing except vast sands and shabby wooden cabins, without electricity and water. But we felt so excited as it was the first time we had seen a desert," Ma recalls.
"That night, though, some of the girls began to cry. The boys laughed at them and shouted at them to stop but soon the boys started crying, too.
"It felt like our cabin was shaking in the gale-force wind and we all began to miss Beijing."
The next morning they found sand all over their bodies. Getting it off was no easy matter - each day 40 people had to share two buckets of water.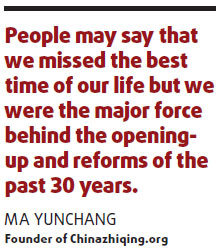 Whatever romantic notions they might have had about their new adventure were soon dispelled by their heavy labor. They worked day and night, digging water channels and wells, making bricks to build houses and planting trees and crops.
"We used to get up at 4am to build a road," says Ma. "By lunchtime, we were very hungry but too exhausted to eat."
Zhu Li, 57, worked in another construction gang in Inner Mongolia. She left Beijing in 1969 and married a colleague during her 10-year zhiqing life.
"While we were digging water channels, we had to spade the mud and throw it 2 m away from the bank," Zhu remembers. "A full spade of mud weighed about 15 kg - by the end of the day the girls couldn't even move their arms, it hurt so much."
The only entertainment they had was reading books and watching a revolutionary movie once a week.
"Life was hard and boring, but we really learned a lot from the years," says Ma, who returned to Beijing in 1974 and went to university after college entrance exams resumed in 1977.
"It is said that a zhiqing can sweep a floor much cleaner than anyone else. It is true because our generation understands responsibility and has a strong will to fulfill it. In fact, many zhiqing were very successful in their careers after they returned to the cities.
Last year, Ma organized a zhiqing trip to the desert where he spent five years. "As soon as we saw the old place, many of us shed tears," he says.
The website administrators often had meetings in a small office in Beijing's Chaoyang district - two of them were in wheelchairs and had to make a great effort each time to be there.
Mu Hua, 58, was one of them but often worked until 1am to maintain its forums.
"Many zhiqing only began to learn how to surf on the Internet in order to review history and look for their colleagues, who they had lost contact with for many years," she says.
"They left messages on our different bulletin boards to express their sentiments, share their views, look for their friends and organize reunion trips."
Mu can remember the exact day - a cold winter morning on Jan 25, 1969 - that she stood at Beijing Railway Station, waiting for her train to Yan'an.
Nobody came to see her off but the 16-year-old felt like she was escaping the chaos as the train set off for Yan'an, Shaanxi province.
Her father, Mu Xinya, was a lieutenant general in the Kuomintang army under the command of General Fu Zuoyi, who was stationed in Beijing and surrendered to the Liberation Army in 1949.
Due to his Kuomintang background, Mu Xinya was arrested by the Red Guards at the start of the "cultural revolution" (1966-76) and Mu Hua's stepmother murdered.
Related readings:


A movement for change

Uncle Zhou still in my heart


Commandos and comrades who cared and shared


Bitter memories filled with drama
Being helpless and homeless, Mu Hua chose to go to the countryside. Along with the 27,000 school students from Beijing, she was sent to Yan'an, where the Chinese Communist Party was based from 1935-48.
On the train, the curious teenagers around Mu were excited about the new life ahead and sang the whole way. She still remembers that all of them were looking forward to seeing the yaodong, a typical cave dwelling which sheltered Chairman Mao Zedong and his soldiers for 13 years.
As soon as they got off the train, the youngsters were divided into groups and sent to villages around Yan'an. An old man on a donkey came to pick up Mu and her colleagues. "We thought it would be a warm welcome but in fact the local farmers didn't like our arrival," she says.
"They had to share their limited food supplies with us. Unable to get enough food from the infertile soil, many poor farmers had to beg."
Every day, the teenage Mu had to get up at 6 am and walk 5 km to the fields where she was working. She had never touched a farming tool in Beijing but was now being told to plough the barren fields with experienced farmers.
"The villagers were simple and very kind to us," she says. "They often said that it was hard for Beijing children coming to a poor area so they treated us like their own children."
She remembers one old man who even left his own children hungry so he could feed the newcomers.
Although Mu left Yan'an just three years later to look after her father, she has always considered her zhiqing time as an experience to treasure.
"One of the characteristics of zhiqing is that we have strong empathy with disadvantaged people and like to help them," she says, "because we used to live and work with poor people and received their help."
Recently, a zhiqing's daughter was seriously ill. As soon as the website posted the story, many zhiqing donated money and offered to help her.
While they may have been lacking the skills needed in their new jobs, zhiqing brought many benefits to rural communities.
Another wheelchair-bound website administrator, Wu Weidong, went to the grasslands in Inner Mongolia in 1968. The first time he tried Mongolian milk tea in the yurt, he almost threw up but 40 years later, Wu, 58, often spends an hour or more travelling just so he can have a cup of the same drink at an Inner Mongolian restaurant in Beijing.
When the "cultural revolution" began, many young people changed their names to show their loyalty to Chairman Mao Zedong and the party. Wu Weidong also changed his name to "Weidong", which means to "protect Mao Zedong".
Wu's zhiqing adventure was at the town of Xiwu Banner 600 km east of Hohhot, the capital of the Inner Mongolia autonomous region. When he arrived at the grassland, he learned how to ride a horse and lived with the herdsmen.
While Wu and his fellow zhiqing learned Mongolian and how to herd, they in turn founded a primary school in Xiwu Banner in 1970 to teach the herdsmen's children. They also taught the locals how to improve sanitation and increase the yield of crops. "The herdsmen cared about us a lot, so we wanted to do something for them as well," says Wu.
Winters in the grassland were extremely cold, especially for outsiders not used to them. By the time Wu's eight years were up, he was paralyzed from the waist down.
But is he bitter? Quite the opposite.
"We are not a lost generation," he insists. "We are a generation who sacrificed our youth for the country.
"If I had 10 minutes to review my whole life before I die, I would like to spend seven minutes going back to my eight years in the grassland as a zhiqing.
"I was lucky to live during that time."
-----------------
oohkuchi, zhiqing means "zhishi qingnian", or young intellectuals. But what does "intellect(ual)" mean anyway? Actually the same as "jianshi", perceptiveness. And oohkuchi? "Hassle"?