The "Budget Spouse" Phenomenon
By staff reporter LU RUCAI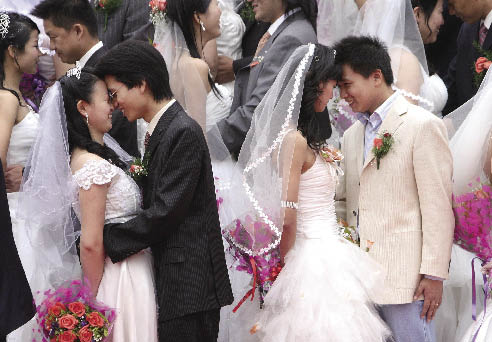 Few days ago, Zhao Ying's friend introduced her to a man. A mediocre man she decided, but did not actually refuse to see him again. This marriageable 28-year-old used to place a high income and good looks first when evaluating a prospective spouse. Today, she tends to check out "ordinary Joe's" – in search of what's called the "budget husband."
Easy on the Wallet
"Budget husband" refers to the single man who is employed in a field with low risk of being unemployed or laid off, such as education and engineering. Their monthly income should range from RMB 3,000 to 10,000, an echelon that can afford the down payment on commercial housing. The budget husband concept is generated from the concept of "economically affordable housing," referring to projects for low- and middle-income groups that have been built in China for the past 11 years. More and more women now tend to seek a "budget husband" instead of a wealthy man, just as home buyers now cast about for a modest home rather than a villa.
Zhao Ying's candidate meets every one of the criteria in her budget hubby profile. He is a software engineer in a China-U.S. joint venture with a monthly salary of RMB 10,000. "He's been working there for ten years, with no fear of being laid off. That's a clear advantage compared to those who are currently feeling the pressure of the global financial meltdown. What's more, he owns an apartment in the suburbs." Zhao Ying is quite satisfied with him.
The "budget husband" has become a topic popular with more than just young singles. The drama Marry a Budget Husband has been well received in Beijing and Shanghai. The producer claims that the show is a "guide for the bachelorette who's decided to settle down."
The biggest matchmaking website on China's mainland, www.zhenai.com, reported on a survey it did in Feburary 2009, indicating men working in finance are now less popular due to the economic downturn. Instead, public servants, teachers and military men are more to women's liking. "Facing the current depression, Chinese women are eager for stability in life. That's why public servants rank first on their list." Li Song, board chairman of www.zhenai.com, explains.
Li Na, a housewife, is content that her husband works in a government department. Although not earning a fortune, he is never affected by financial ups and downs. Li says she "values a stable income and a peaceful life the most."
Uncomplicated and Family-Centerd
The "budget husband" isn't just an economic entity. In a woman's eyes, this temperate spouse is one free of bad habits such as drinking, smoking, and gambling. He is family-oriented, too. That might be a strict set of standards. However, it reflects a return to traditional marital values in this post-modern society.
The Social Survey Center of China Youth Daily found that opinions about what constitutes a successful man are changing. As high as 77.9 percent of the interviewees agree that "family-oriented" is the all-important measure of a man's success, followed at some distance by "responsibility to protect the family" (71.2 percent). "High social status" ranks far behind these first two criteria. Of the 2,469 interviewees, 52.3 percent were female and people in their 20s accounted for 65 percent.
Family has always played an important role in love and marriage in China. Therefore, most women do not wish to marry a man who has to travel a lot or has little time for home and hearth.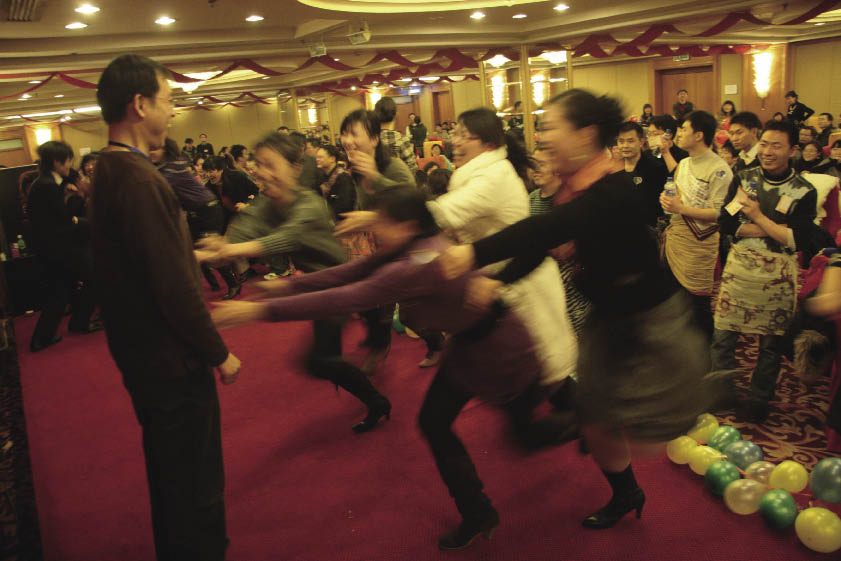 "Family-oriented" is the all-important non-economic requirement; the "budget husband" is a home body. China Foto Press
Lu, an auditor for a beverage company in Qingdao, has to fly around the country frequently for business. He is home in Qingdao no more than one week a month. Though nearly 30, Lu has never dated a girl. "My friends and relatives introduce young women to me, but I am unable to take the time to get to know them. On the other hand, they often refuse me once they find out I have to travel a lot," Lu shows his frustration. His parents' anxiety weighs on him too. "I'm intending to find a company that doesn't require so much business travel. After all, I do need to get married and have my own family," concludes Lu.
Some women hedge their bets. "The man who becomes my husband should be more of a home body, may be not as big a money maker as the guy next door, or, if more of a money maker, not as much of a home body." This posting on the Internet has been widely circulated as a declaration of compromised criteria.
A statistic from www.jiayuan.com shows that 60 percent of females now target the "budget husband" rather than their former favorite the "big spender." Consequently, men who have registered on matchmaking sites are compelled to update their information in compliance with women's new standards. "It does work! Now I receive more than ten emails everyday," testifies Yang, a member of a matchmaking site who is excited about the results of recently revising his online profile.
It is believed that the rise of the "budget husband" is mainly a reaction to the financial storm that eclipsed the shiny luster of wealthy men. But in the eyes of mature people, it is a return to reality and a sensible choice for the modern female.
"Budget Wife"
No surprise then that men also have their criteria for an ideal spouse – the "budget wife." Ladies who live simply and do not worship money are now the ones sought after.
Zhang Jun, a self-styled "budget man" in his early 30s, had had several dates before he married a kindergarden teacher not long ago. He acknowledges that he used to focus on a young woman's appearance just as other young men did. But after years of this he realized that good-lookers are not necessarily perfect for family life – one that contains more daily monotony than romance. "I think it takes most young men some time to become conscious of the difference between love with and without family responsibilities," Zhang says. "My wife is very dutiful, and I believe motherly – capable of taking good care of our coming child."
This is representative of the Chinese male's born-again attitude towards marriage: the long-term thinker turns to the "budget wife" without hesitation or regret. In the eyes of mature people, it is a return to reality and a sensible choice for the modern female.