Small airports count losses as more take off
By Xin Dingding (China Daily)
Updated: 2009-02-09 07:39
A majority of China's small airports are losing money, but more will spring up at a quicker pace in view of the call to spur domestic demand.
Related readings:


Major shipping, aviation funds to boost reforms


Vice Premier: Aviation sector needs to deepen reform


Aviation: Okay flights halted earlier than expected


Aviation industry sees promising future

Ninety-one percent of the 103 small airports - those that handle less than 1 million passengers annually - are losing money, Feng Jianhua, general manager of Mianyang Airport, said in an essay published on an industry website (www.aerochina.com.cn).

Feng said that among airports that handle less than 500,000 passengers a year, none achieved break-even.

For instance, all nine small airports run by the Inner Mongolia Civil Airports Group in the Inner Mongolia autonomous region reported losses last year and the year before, Han Zhiliang, the group's president, told China Daily.

The total passengers handled by small airports across the country accounted for 6.4 percent of the total handled at all the country's airports in 2006. In contrast, the country's 10 largest airports handled 60 percent of the total air travelers in the same period.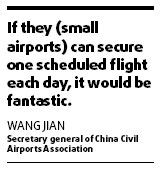 Wang Jian, secretary general of China Civil Airports Association, said small-sized airports usually built by local governments to improve investments, do not have enough passengers to attract airlines to operate flights there.
"If they can secure one scheduled flight each day, it would be fantastic," he said.
But some small airports do not see a single plane for days. A few even remain shut and runways became deserted, Wang said.
Against this backdrop, a new construction spree has started, backed by the central government's call to expand domestic demand to beat the economic slowdown.
New airport projects worth 200 billion yuan are to kick off in 2009 and 2010, the Civil Aviation Administration of China (CAAC) said on its website. China plans to increase the number of civil airports from 160 last year to 244 this year.
In the past two months, the National Development and Reform Commission (NDRC) approved seven airport projects. Two projects concerning small airports were approved in January alone.
According to the CAAC website, the Luoyang airport in central China's Henan province will be expanded to handle 760,000 passengers a year by 2015 at a cost of 270 million yuan.
The plans have prompted concerns that investing in small airports would be a waste of money. But Wang Jian said building more airports is more of a strategic need than the need for profits.
"Small airports like Mianyang played an important role during the May 12 Sichuan earthquake to send rescuers in when roads and railways were broken," he said.
The CAAC hopes to address the problems by giving subsidies to airlines and airports. Yang Guoqing, CAAC's deputy chief, said last month that more subsidies will be given to airlines increasing flights to 100 small airports.